The Secret of Cooking
Recipes for an Easier Life in the Kitchen
A genuinely game-changing cookbook…there's not a kitchen that should be without a copy"

— Nigella Lawson
A culinary companion to simplify cooking while making it more enjoyable
The Secret of Cooking is packed with solutions for how to make life in the kitchen work better for you, whether you're cooking for yourself or for a crowd.
Do you wish you could cook more, but don't know where to start? Bee Wilson has spent years collecting cooking ​"secrets": ways of speeding cooking up or slowing it down, strategies for cooking alone or days when you are stretched for time, and other ideas for when you want to luxuriate in kitchen therapy. Bee holds out a hand to anyone who wants recipes that are delicious but more doable, the kind of unfussy food that makes every day taste better: quick feasts from a can of beans; fast, medium, and slow ragus; soup with no sautéing; a never-fail chocolate cake; seven ways to learn to cook with a carrot; and waffles!
Alongside thoughts on how to cook when you're alone, with children, or just plain tired, Bee offers 140 recipes including:
a super easy and extra beautiful ratatouille* that you make in the oven 

*OK, this is technically a tian

Grated Tomato and Butter Pasta Sauce with basil, gyozas, crisp herb and vegetable fritters and other ways of getting the most out of the box grater, one of the most underrated of all kitchen utensils

salads that make you want to eat your greens, such as mushroom noodle salad with peanut dressing

leisurely projects (yes! it is worth toasting and grinding your own spice mix) plus no-effort feasts such as roasting-tin chicken with fennel and citrus  

the loveliest red curry sauce, plus other sauces you can make ahead of time and stash in your freezer for a near-instant dinner

universal desserts, or those gluten-free and dairy-free sweets that you can serve no matter who comes over, like a Vegan Pear, Lemon, and Ginger Cake
With advice on seasoning, cleaning up, and choosing the best equipment, Wilson reimagines modern cooking and brings the spark back into everyday meals. As Bee says, "There's still magic in the kitchen, if you know where to look."
Shall we cook?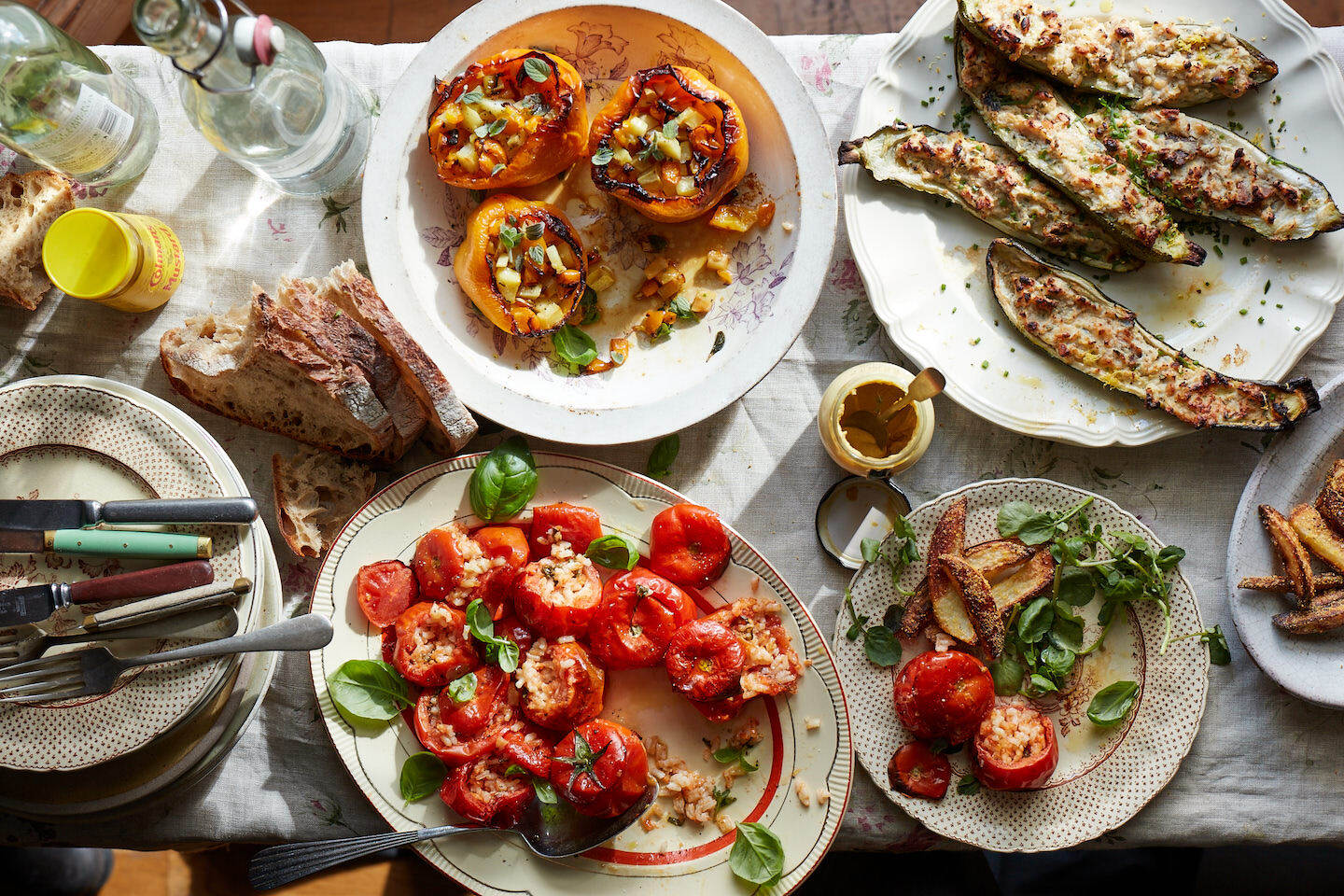 Praise for The Secret of Cooking
Bee Wilson is the ultimate kitchen friend: smart, funny, conscientious and patient, this is a book you'll want to spend time with, in and out of the kitchen."
Bee Wilson is the ultimate kitchen friend: smart, funny, conscientious and patient, this is a book you'll want to spend time with, in and out of the kitchen."
Wisdom and notes from a lifetime of reading, thinking, cooking, and eating. And it's not just about food but about how we live, and how we look after ourselves and each other."
It's not often that a genuinely game-changing cookbook comes out, but this accomplished, approachable and helpful book — its writing as nourishing as the recipes — is most definitely it. Quite frankly, there's not a kitchen that should be without a copy of The Secret of Cooking."
Reading The Secret of Cooking is like sitting in a warm kitchen with an exceptionally articulate friend. I don't need a lot of convincing to pick up a pan, but Wilson's tips are so clever, her recipes so tempting, and her vignettes of family life so candid, that this is a book I can read for pleasure alone."